#TellMeAColor
 October 22nd 2021 - November 5th 2021
"Color is a power which directly influences the soul"   --Wassily Kandinsky 
Do you believe that? I kind of do. It can change your entire perspective. The #enamelcuffling series was born out of my obsession with organizing and playing with color. Sitting down and choosing what colors to add to the series is always a revealing exercise in the office. It is emotional for everyone. (Why else would we have 4 blues and 5 pinks?!) 
Want to help us choose the next one? Once again we are coming to you to help us choose a
color to join  the Enamel Series.  We are excited for your choices! 
Here's how to get started...
2019 Winner 
The 'Lawrence' Enamel
How To Enter:
Think of your favorite color. Think about the best possible expression of it. Post that picture to Instagram.
 In the caption. Describe it for us. Name it.  Tell us why this color inspires you, 
Tag  it #tellmeacolor
Tag and follow @marlaaaron and @tellmeacolor.
Do it as often  as you'd like.
If we choose your color, it will join the Marla Aaron Enamel Series as an Enamel Cuffling®, Enamel Cuffling® Earcuff, and your choice of either an Enamel Medium Lock, Enamel Heartlock, or Enamel Starlock. And we will send you a set of all 3 pieces in that color. Yup! 
Marla will announce the winner via Instagram on November 5th, 2021. 
This promotion is not sponsored, administered, or endorsed by Instagram or anyone other than Marla Aaron Jewelry.
Rules for Entry:
This promotion is not  sponsored, administered, or associated with Instagram, Inc. 

This promotion is being hosted by Marla Aaron Jewelry (© 2021 and ™ owned by Tastefairy Corporation.)

Entries will be accepted after the event is announced via Instagram at 11:00 am EST on October 22nd, 2021.

Entries must be submitted by 11:59pm EST on November 4th, 2021. 

Marla Aaron will announce the winner via Instagram at 12:00 pm EST on November 5th, 2021.  

Participants must be 13 years of age or older. By entering, entrants confirm that they are 13+ years of age, release Instagram of responsibility, and agree to Instagram's terms of use.

Entries will be accepted from any country. Entries must be posted/written in English.

We do not  encourage users to inaccurately tag content, or tag themselves in photos they are not in.

Marla Aaron will chose her favorite entry as the winner. The winning person/entry will be announced @marlaaaron and @tellmeacolor. 

@tellmeacolor will direct message the winner on Instagram to receive shipping information for their Enamel Lock, Enamel Cuffling®, and Enamel Cuffling® Ear Cuff. 

The items will be delivered to the winner's given address by UPS. Marla Aaron Jewelry will be responsible for shipping and delivery fees.

NO PURCHASE NECESSARY. If chosen as the winning entry, that entrant will win an Enamel Cuffling®, Enamel Cuffling® Earcuff, and your choice of Enamel Lock in the color they entered. The winning color will also be put into production as an enamel shade offered in the Marla Aaron Enamel Series.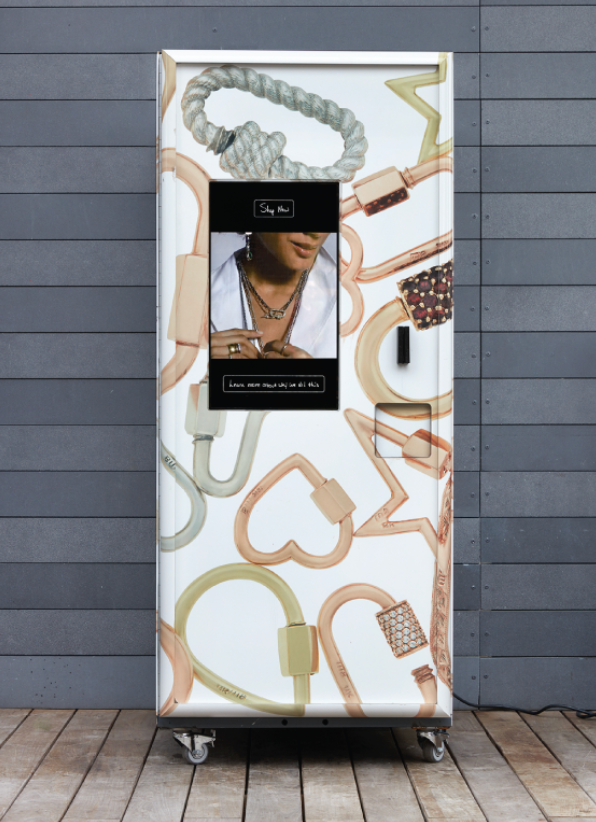 The Story
In 2016 upon the heels of a trip to Japan where I saw vending machines everywhere selling all manor of objects. It struck me that we should do the same and I began building one immediately upon my return. It launched as an installation at the Brooklyn Museum and went on to a garden in Brooklyn and finally to Rockefeller Center. Precious things available to people in an unexpected and joyful way....that was my motivation and we are excited to keep developming down this path