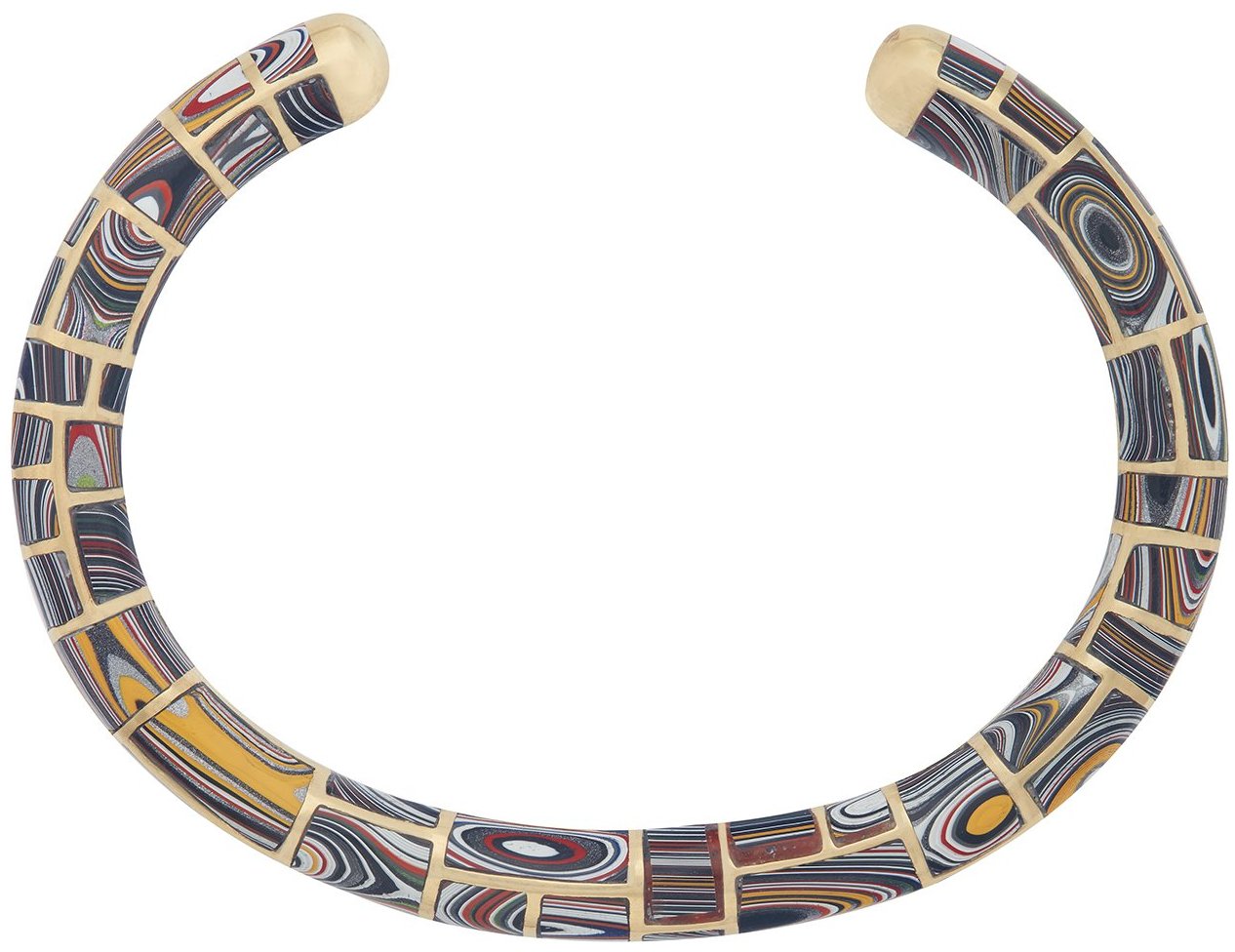 All Inlay Cuffling with Fordite
Description

Shipping Info
In the automotive factories, on the floors where they paint the cars, the paint layers and forms a hard surface—like a stone. Some enterprising person realized that chiseling it off allowed for it to be formed into jewelry, pens, the occasional handle to a knife and many things actually. The Fordite we use is from the Ford Motor Company between the years of 1960 and 1990. We also have some Corvette paint as those cars were painted in a different room and have different colors. I think our customers' response to our Fordite pieces is easily explained by the somewhat mythical quality of Detroit itself—the boom and the bust of it and now its resurrection…a very American story.
All Fordite pieces are sold in limited quantities as the material of this quality and age is extremely limited. We could not stop playing with the Fordite. It's a little piece of history to wear....
Regular fits up to size 6" wrist, Large fits up to a size 7" wrist. Please email info@marlaaaron.com with inquiries about custom sizing.
#marlaaaronjewelry #inlayseries #allinlayseries #cufflingseries #forditecuffling
We use UPS and Federal Express. We insure all of our packages and always require a signature for orders over $500. Please make sure you choose an address for delivery where someone is available to sign for it. Our 2-day shipping in the continental U.S. is complimentary. Overseas shipping is $75.00. Overnight shipping within the U.S. is $30.

If you would like rush or overnight please email us and let us know when you place your order and we are happy to accommodate where we can.

If you are in the state of New York and you make a purchase, we will add appropriate sales tax.

Please email info@marlaaaron.com if you have questions.

Expected arrival date for international orders is approximately 10-14 days from the order date.

For international orders, a customs duty will be charged to you depending upon the country in which you reside.

By law, we cannot change the value of order on commercial invoices. We adhere to all international import/export laws.

Styling Assistance?
Book a virtual appointment with our team
All Inlay Cuffling with Fordite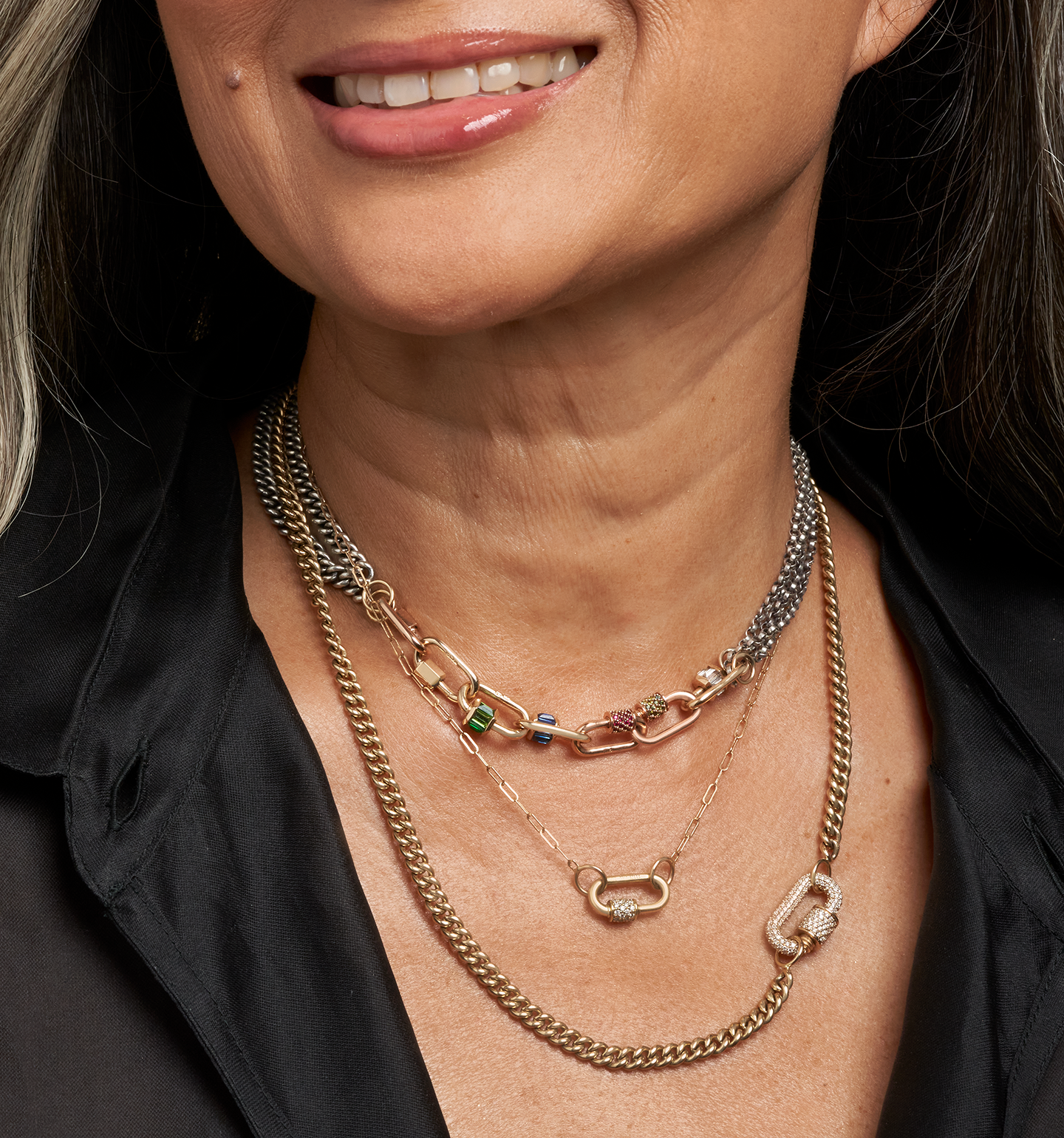 Shop the look
Complete the Set
Burning Questions
What's the size difference between babylocks, medium locks and regular locks?
A babylock measures a 1/2 inch, a medium an inch, and a regular lock an inch and a quarter.
How can I style my lock?
You can use it as an extra link to a chain, as a charm holder, or use it to simply complete a chain.
What are the most popular chain lengths?
15" is popular for a choker-style look.
19" is universally flattering as a necklace and most customers can wrap it around their wrists as a bracelet.
32" gives maximum play with various styling possibilities.
What's your return and exchange policy?
We accept returns and exchanges within 15 days of receipt for all pieces returned to us in their original packaging and in their original, unworn condition.
We offer complimentary standard shipping via UPS with insurance and always require a signature for orders over $500.
More Questions?
Check out our complete FAQs below.