Our Beliefs
It is our belief that jewelry has one job and it is to bring joy to people.
While we love jewelry, we love the human race even more which is why we commit to an ethical approach to running our business across all of its dimensions.
Perhaps that sounds cliché….perhaps even too broad...let me take this opportunity to dive into some of the things we are trying to do as a small business in New York City.  
Here are the broad strokes of what this means:our collection is made here in New York in small workshops whom we partner with --some of whom we have been working with since the beginning of the company.
We know and respect how they operate. We have been working with many of them for years and we share values because....
Where we can, we work with other small businesses. 
We got a shot to succeed and we relish the opportunity to give that opportunity to others.
We value diversity in our employees and in our partners.
We pay a fair and equitable wage and are constantly seeking ways to improve the lives of our employees.
We only buy diamonds that have been certified through the Kimberley process, which imposes extensive requirements on its members to enable them to certify shipments of rough diamonds as 'conflict-free' and prevent conflict diamonds from entering the legitimate trade.
We use 100% recycled gold wherever possible in our designs.Our gemstones and our semi-precious stones are responsibly sourced from a small group of stone dealers whom we trust and have worked with for many years including some who work exclusively with women miners in Africa.
We are proud that we were able to partner with World Central Kitchen execute our Take A Seat project where we are donating 100% of the proceeds of our sterling silver chair to the benefit of restaurants and their people around the world. You can read about that here.
Since 2017, we have given locks away to single moms through our #lockyourmom project. This is a small way to give back but it's meaningful. These are the types of opportunities we look for.
More importantly than any of the above
It is our overarching desire as a business to run a responsible business—to make beautiful jewelry but also create a business that I and my employees feel good about. 
So while the above list is not exhaustive we are a work in progress... and proudly so.
Our work to be a responsible business is never done and we know this.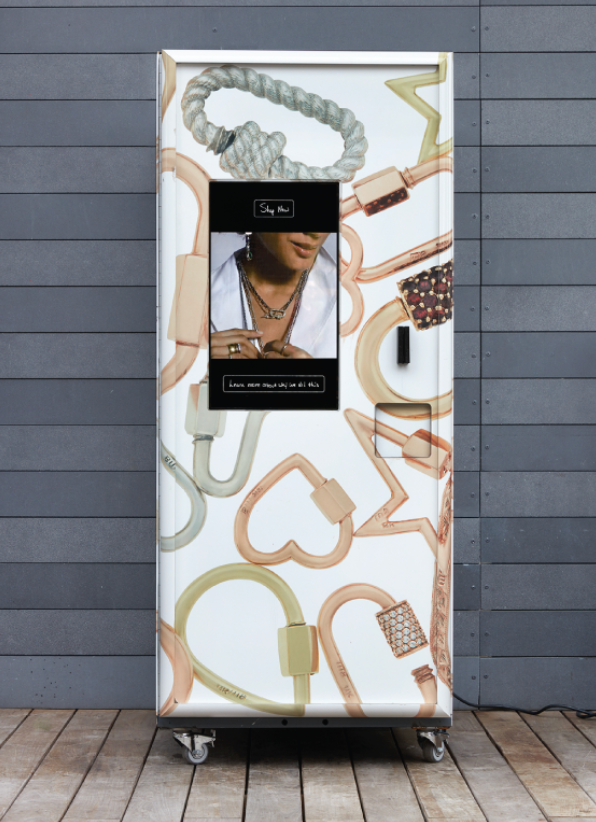 The Story
In 2016 upon the heels of a trip to Japan where I saw vending machines everywhere selling all manor of objects. It struck me that we should do the same and I began building one immediately upon my return. It launched as an installation at the Brooklyn Museum and went on to a garden in Brooklyn and finally to Rockefeller Center. Precious things available to people in an unexpected and joyful way....that was my motivation and we are excited to keep developming down this path