All your questions. Answered.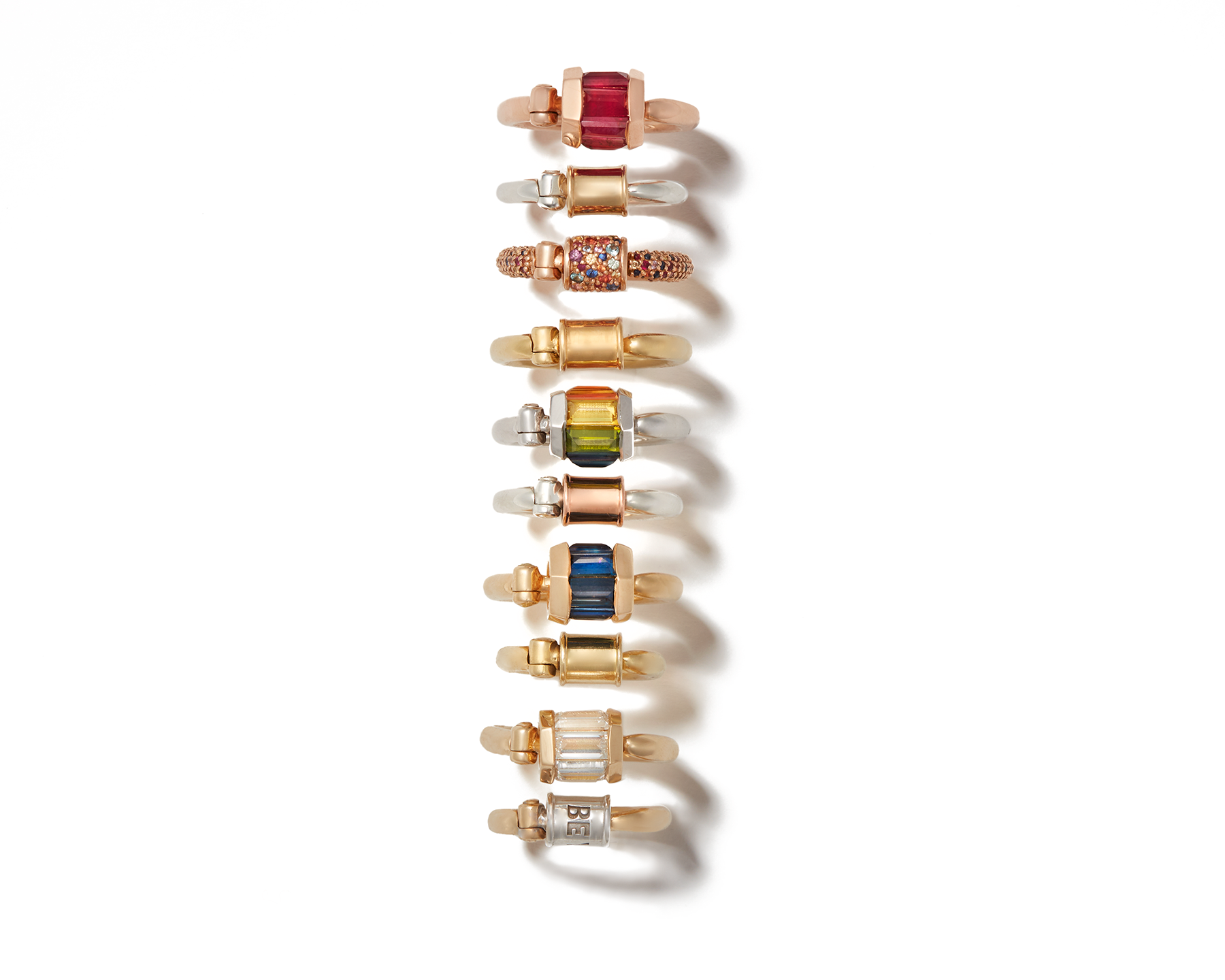 Secure transactions
Transactions are handled with bank-grade security.
Simple checkout
Our secure checkout is quick and easy to use.
Stellar Service
via phone, email & appointments
FAQs
I'm new here! How should I get started?
Choose a lock. Choose a chain.  You can add to it later. The most important part is to choose a lock that you love.  Our locks come in 4 colors of gold (yellow, white, green and rose) and platinum and in some cases sterling silver.  All the locks are versatile and can be worn in myriad ways. Or your lock may work with pieces you already own—that's the best part.
Do you offer custom work or engraving?
Personalizing your piece is one of the special surprises of owning or giving our locks. Each lock has 6 sides to engrave on and we can do virtually any language or symbol you can dream up. Engraving ranges in price from $80 for a standard laser engraving. If you are interested in hand engraving, please email or call us.
Most pieces from the collection are engravable and it is indicated in the product. If you don't see a choice for engraving, please email or call us to determine if it is viable for your piece.

All our jewelry is handmade and hand finished by a team of craftspeople. It's safe to say that no piece is exactly the same. The gemstones we work with are constantly evolving so if you don't see a stone that you seek, email or call us. We'd love to help you.
Custom length chains, custom locks and engraving are final sale. That being said if we made a mistake, we want to know about it and fix it.
Our hours of operation.
Even though our website is open 24/7, we, the humans who run the website, work "normal business hours," meaning we are open Monday-Friday, 9AM-6PM. If you inquire about a product or a purchase over the weekend, we will absolutely respond but it will likely be on the following Monday morning. We will be in touch! 
How should I clean and care for my Marla Aaron piece?
Your locks are designed to last forever and to be worn and take on the patina of best loved jewelry. If you miss your piece's original lustre, we are happy to polish them to either a "satin" or gloss finish. Just call us. Pricing starts at $25.00.
For brass Cufflings, our preferred cleaner is ketchup – Heinz specifically. Simply wipe the ketchup on your piece and then wipe off with a "buffing" motion using a paper towel. Rinse with water and dry and you will see the shine. Well worn jewelry though does not need any polishing. So wear your jewels!
Store pearls in a cloth pouch (if you bought them from us or had them repaired by us you have one of our muslin sacks). And try not to get lotion or perfume on your pearls – it will destroy their lustre.
Shipping & Returns
Holiday Return Policy
All orders placed between December 1st, 2023, and December 31st, 2023 ("Offer Period") will have an extended return and exchange period. To be eligible for a refund/exchange, return packages must be received by January 15th, 2024, in their original packaging and in their original, unworn condition.
Orders placed after the Offer Period will be subject to our regular return policy. Please refer to the return and exchange guidelines below to check if the purchased items are eligible for return or exchange.
What shipping options are available on marlaaaron.com?
We use UPS and Federal Express. We insure all of our packages and always require a signature for orders over $500. Please make sure you choose an address for delivery where someone is available to sign for it.
For each address within the United States, the following charges apply:

Standard Shipping: $0 
Please allow 2-5 business days to receive your items. Items ordered together may not always ship together. 
Overnight shipping within the U.S.: $30 
Orders placed before 3:00PM EST Monday through Friday will be delivered on the following day. 
Orders placed on Saturday before 1:00PM EST will be delivered Monday. 
Sunday and holiday delivery are not available.
Engraving Schedule 
Please allow an additional time for delivery of engraved items.
More Information on Complimentary Shipping: 
Sales tax & engraving fees do not count toward the total amount. 
Complimentary shipping is only available for orders placed for domestic delivery.
Shipping and handling.


If you would like rush or overnight please email us and let us know when you place your order and we are happy to accommodate where we can.

If you are in the state of New York and you make a purchase, we will add appropriate sales tax.

Please email info@marlaaaron.com if you have questions..

Expected arrival date for international orders is approximately 10-14 days from the order date.

For international orders, a customs duty will be charged to you depending upon the country in which you reside.

By law, we cannot change the value of order on commercial invoices. We adhere to all international import/export laws.
How can I make returns or exchanges?
We accept returns and exchanges within 15 days of receipt for all pieces returned to us in their original packaging and in their original, unworn condition. 
Returns are processed in the order in which they are received. Once we receive your return, it may take up to 10 business days to process. If it has been more than 10 days since your return package was delivered to us, please contact us with your return tracking number so we can look into your order. 
Once the return is accepted, we will fully credit your account. If we feel, for any reason, that the request is not reasonable — if the jewelry is damaged or has been improperly used — we will not accept the return. Any custom or custom-engraved pieces are final sale.
If you would like to make a return, please email info@marlaaaron.com with "return request" in the subject line. 
May I return an engraved item?
Unfortunately, engraved items cannot be returned to Marla Aaron.
Shopping FAQ
Do you provide Klarna or other Buy Now Pay Later payment options?
Yes, we partner with Klarna.
Can I include a personalized gift message with my purchase?
Yes, you will have the opportunity to create a personalized message at checkout. The message, enclosed in a white envelope, will arrive with your gift package.
Is it safe to order on marlaaaron.com?
Yes, it is safe to order on marlaaaron.com. We use industry-standard encryption technologies to protect your transactions.
How can I get extra help placing an order?
For assistance with placing an order, please call 646.628.2389 or email info@marlaaaron.com.
You can also book a complimentary in-person or virtual appointment. To set up an in-person appointment at our NYC showroom, please click here. To set up a virtual appointment, please click here.
Does Marla Aaron have jewelry for men?
Yes, because we believe jewelry has no gender so every piece can be worn by anyone and everyone.
Engraving & Customizations
Is engraving available on marlaaaron.com?
Marla Aaron is pleased to offer machine engraving and hand engraving when applicable. You may select your preferred engraving method; however, for specific styles, our engraving experts have determined in advance the most appropriate technique. 
Hand Engraving: Hand engraving is the art of removing metal to create lettering through the use of manual tools. Each piece is unique, allowing for the different character of each engraver. It usually takes an additional 4 - 7 weeks for delivery.
Machine Engraving: This method uses technology to create lettering, consistently replicating our most popular styles. It usually takes an additional 1 - 2 weeks for delivery.
How will I know if an item available on marlaaaron.com can be engraved?
All items on marlaaaron.com that can be engraved have an "Add An Engraving" on their product pages.
May I return an engraved item?
Unfortunately, engraved items cannot be returned to Marla Aaron.
We hope this helps!
Questions about sizing, material or simply getting started? Try visiting the guide to the collections page for a wealth of lock knowledge. Each product page has its own specific info, we suggest looking there for questions around a specific product. Company and logistic questions can be found here!